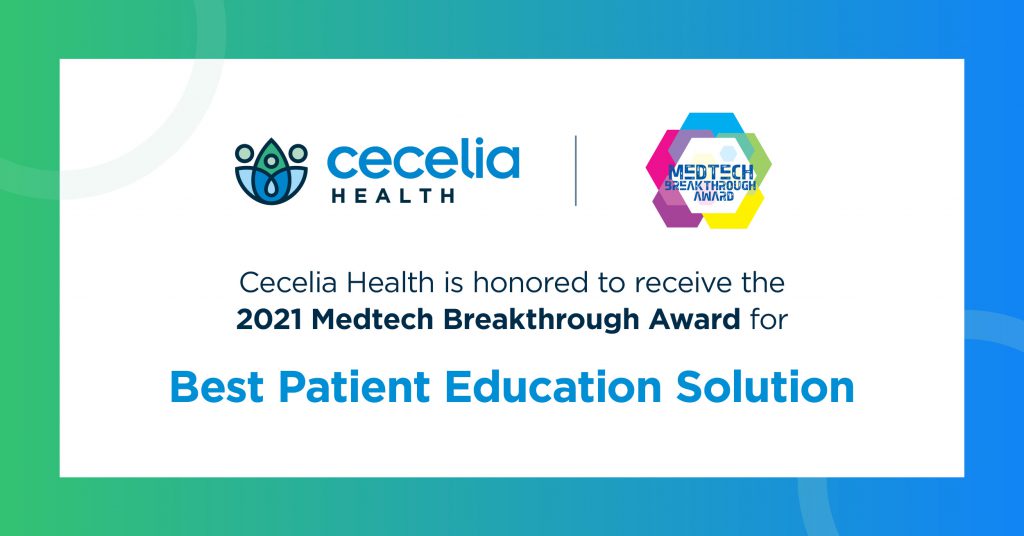 We are honored to have been selected as the winner of the Best Patient Education Solution award in the fifth annual 2021 MedTech Breakthrough awards program!
Cecelia Health positively transforms the lives of people living with diabetes and other chronic diseases. Our technology-enabled personalized coaching solution optimizes patient health outcomes via a tailored mix of expert clinician and digital health interactions.
Cecelia's evidence-based, expert-led digital care solution provides a high-touch, personalized experience to people living with diabetes and other chronic conditions. All participants are assigned a dedicated clinical expert to provide support, accountability, and education specific to their individual barriers and conditions.
MedTech Breakthrough is an independent market intelligence organization that recognizes the top companies, people, platforms and products in the health, fitness, and medical technology industries today. Judges are senior-level, experienced health, medical and technology professionals that have personally worked in the MedTech space. All entries are judges across multiple criteria, including innovation, performance, ease of use, functionality, value, and impact.
Patient education is a core part of an integrated care plan and empowers people living with chronic conditions to better understand and manage their condition. Our clinical expert team is comprised of nurses, dietitians, exercise physiologists, certified diabetes care and education specialists, and endocrinologists who are passionate about empowering people with chronic conditions to live rich, healthy, and fulfilling lives. They excel at building relationships with program participants to educate them about their condition, motivate better lifestyle choices, and provide the essential problem-solving and emotional support required for people living with chronic conditions.
Learn more about Cecelia Health's programs here.