Living with diabetes can be overwhelming. A very important step to take to reduce the stress associated with this disease is to follow a healthy eating plan. The act of eating should be enjoyed and it should nourish us, despite our conditions. In order to maintain blood sugar levels within normal range, it is important to eat regular meals during the day. This helps us use the insulin that your body produces or gets through a medication.
The American Diabetes Association recommends a simple method of meal planning. When preparing the plate, consider the following steps:
Fill half of your plate with non-starchy vegetables, such as spinach, carrots and tomatoes.
Fill a quarter of your plate with a protein, such as tuna, lean pork or chicken.
Fill the last quarter with a whole-grain items, such as brown rice, or starchy vegetables, such as green peas.
Include "good" fats such as nuts or avocados in small amounts.
Add a serving of fruit or dairy and a drink of water or unsweetened tea or coffee.
Start planning your meals in 4 steps:
Start with a meal framework: Get a calendar (digital or print) and write down the days you want to cook or eat outside. Here is an example:


Recipe Calendar
Monday
Tuesday
Wednesday
Thursday
Friday
Breakfast
Home Cooked Meal
Home Cooked Meal
Eat Out
Home Cooked Meal
Home Cooked Meal
Lunch
Home Cooked Meal
Home Cooked Meal
Home Cooked Meal
Home Cooked Meal
Eat Out
Dinner
Home Cooked Meal
Eat Out
Home Cooked Meal
Home Cooked Meal
Eat Out
Snacks
Home Made
Home Made
Home Made
Home Made
Home Made

Get recipes and inspiration: Create a list of master recipes (you already know how to put together) and new recipes to add variety. Once you have your list, put it on the calendar.
Make your grocery list: Use your meal plan and recipes to make your grocery list. Organize your grocery list by sections of the grocery store.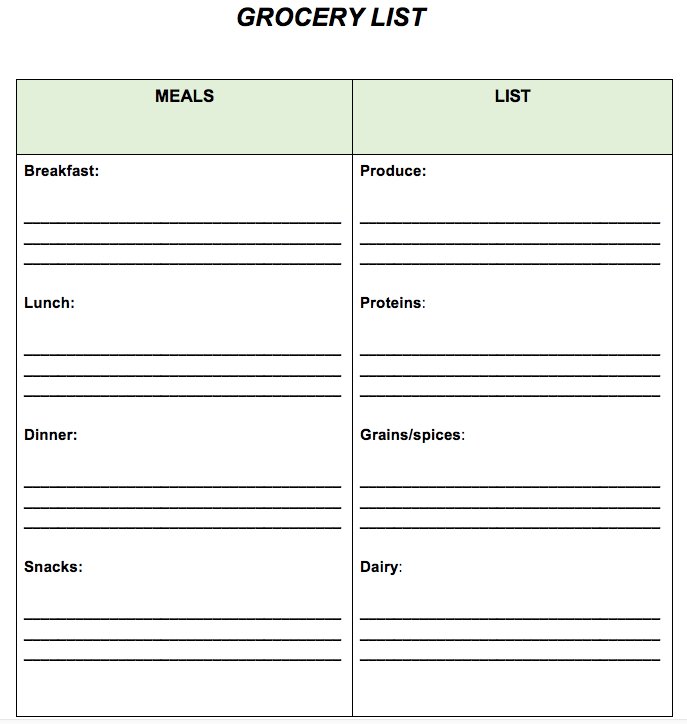 4. Meal prep day: Use your plan and figure out what needs to be cut, marinated, etc. Cut up extra fruits and veggies for snacks and lunches. Same veggies for multiple meals? Cut a bunch and store them, then pull from the container as needed.
Remember..
Life happens! Don't let it get to you. If you don't feel like cooking, go for that backup meal. Save the food and make it for another night. Don't have time to plan one week? That's fine too. Do what you can and then get back on track the following week. It's not meant to be perfect, it's meant to help you.
Keep in mind that it is important to understanding the amount of carbohydrates in our meals. This is because carbohydrates are broken down into glucose and this has a major impact on blood sugar levels.
If you are using insulin to help control your blood sugar, you may need to learn to calculate the amount of carbohydrates you are eating so that you can adjust the dose of insulin accordingly. Registered dietitians and Certified Diabetes Educators can teach you how to create an individualized plan for you.