The True Cost of Diabetes 
Diabetes remains one of the highest-cost chronic conditions in the U.S. For people living with diabetes and their caregivers, the burden is physical, mental, and financial. 
For health plans, health systems, and others who manage health services and payments, the growing epidemic and rising costs to care for these patients is staggering—especially since it's estimated a new person is diagnosed with diabetes in the U.S. every 21 seconds. In fact, if current trend holds, 1 in 3 Americans will develop diabetes in their lifetime. But how much does diabetes and its related complications truly cost payer organizations?  
The Financial Cost of Diabetes 
First, the big number: diagnosed diabetes costs the U.S. $327 billion per year. How is that cost distributed among payer organizations? The largest components of medical spend includes hospital inpatient care, ER visits, prescription medications, diabetes supplies, and doctor visits.  
Payers recognize the urgent need to focus resources on actively improving the health of their members—and here's some greater perspective on why: 
People with diabetes have healthcare costs 2.3 times greater than those without diabetes. 

The average annual cost of care for a person with diabetes in the U.S. is $16,752. 

The average list price of insulin increased more than 150% from 2007 to 2018 – and while the Senate passed the Inflation Reduction Act to cap insulin prices at $35 per month starting in 2023, that only applies to Medicare beneficiaries. 

Two in five people with diabetes also have a diagnosis of chronic kidney disease, which can cost up to $80K annually per person, depending on which stage they have. 

More than 60% of people with diabetes also have cardiovascular disease, which is the leading cause of death in the U.S.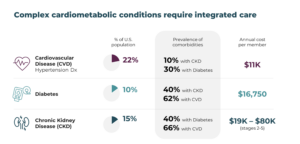 If that's not enough, we are still yet to determine the long-term impact of the COVID-19 pandemic on the population living with diagnosed and undiagnosed diabetes.  
The Human Cost of Diabetes 
Diabetes affects over 37 million Americans—that's one in 10 people. The reality, however, is a small percentage of members with diabetes represents most of the cost to payer organizations. Why the discrepancy?  
While different types of diabetes can affect people of all ages and from all walks of life, certain populations are at higher risk. Diabetes disproportionately impacts low-income communities and minority populations. Unfortunately, this includes a variety of barriers to care and additional social determinants of health (SDOH) factors that impact an individuals' ability to self-manage, ultimately leading to poor health from non-adherence, increased complications, and lower quality of life.  
While the financial cost of diabetes is undoubtedly high, it's difficult to quantify the human cost for those underserved populations who are not always able to seek proper treatment and receive appropriate education to manage their complex health condition daily. 
One in three people with Type 2 diabetes do not keep regular doctor appointments. 

People with diabetes are more likely to have depression than people without diabetes – and less than 50% of those who have depression receive a diagnosis and proper treatment. 

More than 100,000 people die annually from complications related to diabetes. 
Reducing the Per-Member Cost 
At Cecelia Health, we are passionate about transforming the lives of people living with diabetes and empowering them with the support, tools, and resources they need to manage their health. We work closely with payers across the country and complement existing care management programs to close care gaps, resulting in improved HEDIS® measures and Star ratings.  
With millions of live member connections and counting, we understand how to motivate people to make lasting lifestyle and behavior change.  Here are the top 5 reasons our customers trust us: 
Our dedicated, expert clinicians are skilled at building one-on-one trusting relationships. 

We drive strong engagement utilizing a human-led, proactive and data-driven approach. 

We provide personalized, omnichannel member experiences through video, phone, email, and text touchpoints. 

Our programs include onboarding and training for all connected devices like CGMs and blood pressure monitors. 

As a virtual clinic licensed in all 50 states, we expand access to a national network of expert clinicians and specialty providers. 
These core components help us drive the metrics that matter: 
45%+ Program enrollment 

25%+ Increase in medication adherence 

1.5pt Average A1c reduction 

65%+ Care gaps closed 

20% Reduction in Unhealthy Days

90% Participant satisfaction 
Ultimately, Cecelia Health aims to lower the impact of diabetes on the world—both the financial cost and, more importantly, the human cost. Connect with us today to learn how we can put our experience to work for you ad your unique population.