About 32 percent of the US workers agree that telemedicine for health conditions like diabetes is a highly valuable solution for them and their families. Today, telehealth is transforming healthcare by using advanced technologies and tactics to deliver medical and health education services. When you combine increased telehealth adoption with "proactive" coaching, where the coaching engagement is driven by a telehealth expert, the onus is taken off the patient to ask for help and instead the help finds them. This allows the patient to solely focus on improving their health and well-being. This type of human-driven virtual health coaching can help your employees drastically better their health outcomes.
Nine Benefits You and Your Employees will Reap from Proactive Virtual Health Coaching
A healthy workforce means fewer sick off days, fewer workplace accidents, lower costs on health insurance, and improved productivity. Here is how working with a virtual health coach can benefit you and your employees.
1. Helps Patients Understand Their Chronic Conditions
Patients with chronic conditions like diabetes have complex needs that require specialized care. Therefore, it is important to ensure that they truly understand their chronic health problems. Patient literacy will go a long way in helping the patients adapt to their conditions and play an active role in managing the condition(s). Human-driven virtual care may involve a systematic patient-centered approach that extends chronic disease management to the home. This approach also ensures that the patient's needs are met fully, effectively helping to keep such employees healthy.
2. Creates a Multi-touch Health Experience for Employees
A virtual health coach will rely on health records to create a personalized care plan for patients with chronic illnesses. Virtual coaching allows the patient to work with their coach from the comfort and privacy of their home. Easily accessible technologies such as laptops, smartphones, tablets, videoconferencing, phone calls and email ensure that patients get the one-on-one assistance and support they need. For employees who require ongoing guidance and motivation to sustain behavior changes, a multi-touch experience can be an effective way to manage different conditions.
3. Allows Patients to Plan Their Care and Keep Track of Treatments
Receiving the right care at the right time is crucial to improving patients' well-being. However, the health care system can be extremely complex, leaving patients feeling overwhelmed. Proactive virtual care eases pressure on healthcare systems and helps patients stay on track with treatments. Health care professionals can rely on technology to track whether the patient is compliant with treatment and medication. This approach makes it easy to send the patient prompts and reminders and allows the doctor to track disease progression.
4. Protects Employees from Infectious Diseases
In these pandemic times, face-to-face medical consultation can expose your employees to the raging virus. People with underlying conditions are at an increased risk of severe illness when they contract COVID-19. Employers can leverage technology by ensuring their employees seek, receive health care, and manage their conditions over the internet. Telehealth services reduce potential infectious exposures, making them a safer option for patients with long-term health issues. Through other related technologies that record meals, medication, and exercise, patients will get to understand the impact that their actions have on their health.
5. Facilitates Positive Behavior Changes
There are numerous health benefits that your employees will enjoy as a result of working with a CDCES [Vic- need to define this here or wherever first reference to CDCES, I think this is first]-certified professional. Virtual healthcare programs can promote positive behavior to reduce the health risks to which your employees are exposed. These programs will involve goal setting, measured support, motivation, and ongoing engagement, all of which will be done in a non-intrusive way to ensure employees improve their energy and future health. Proper diet and regular physical activity will contribute to lower weight, healthy cholesterol levels, and the ideal blood pressure.
6. Engages Patients with Proactive Support
It can be difficult for people with multiple chronic illnesses to know how best to manage the conditions. Proactive health coaching (the coaches will engage the patient with outreach and follow-ups) will offer patients the support they need so that they do not feel overwhelmed. Experienced medical practitioners working as health coaches will provide the necessary guidance to understand the illnesses, plan care, and encourage patients to manage their health needs confidently. This approach will also go a long way in helping patients achieve better health and improve their quality of life.
7. Maintains Confidentiality
Some of the common questions and concerns that are handled during a virtual care session are emotional health issues, sleep patterns, exercise, weight management, and nutrition. Given the sensitive nature of health information, it is important to ensure that patients feel safe to drive the best care outcomes. One of the advantages of virtual coaching is that it helps to maintain confidentiality and ensures that an individual's information will not be shared by a third party. This confidentiality assures patients that they can communicate openly with the medical experts.
8. Adds Accountability
To successfully improve their health, patients with long-term illnesses need a lot of support and information. Virtual health coaching not only does this but also provides patients with an objective and non-judgmental person to ensure they remain on track. Once the healthcare professional and patient have worked together to set the desired goals, they stand in a better position to achieve them. Also, combining human health coaches with technology will help individuals reach their goals in a shorter time.
9. Enables You to Develop Healthcare Solutions
Using technology allows for the collection and analysis of valuable data. Comprehensive data collection and analysis can help you develop effective healthcare solutions for your employees who need long-term medical treatment. Based on the information gathered, you will be able to track the effectiveness of different treatments and choose the right approach to managing chronic illnesses. Proper management of conditions such as diabetes will keep your workforce healthy and enhance productivity in the workplace.
Health risks and productivity issues go hand-in-hand, meaning a significant reduction in the risks per employee can generate a high ROI for businesses. By relying on telemedicine, you will be in a better position to target the higher risk employees who are likely to contribute to a considerable ROI for your organization. To address the rising direct and indirect costs of chronic conditions in your workforce, you should incorporate a proactive telehealth model that includes coaching and care.
Would you like to learn more?
About the Author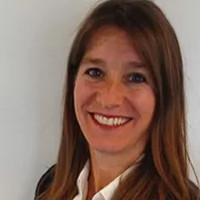 Ms. Gendron is a seasoned executive with over 20 years of experience driving and managing Business Development and Strategic Partnerships, Growth Strategy, and Client Service and Solutions across Fortune 500 Companies as well as start-ups. Ms. Gendron is VP of Strategic Partnerships for Cecelia Health and serves as a relationship manager on all key client initiatives. Prior to joining Cecelia Health, Ashley served as SVP, Strategic Account Manager and Head of Business Development for both an IR start-up and a SaaS Healthcare company where she was project manager on large company initiatives and was responsible for product implementation and account expansion with clients and prospects. Formerly, Ms. Gendron held Vice President roles in business development at global corporations including Gerson Lehrman Group, Credit Suisse and PineBridge Investments. Ashley began her career as an Investment Banker at UBS. Ms. Gendron is a Board Member of Tsavo Conservation Group, a wildlife conservation organization headquartered in Tsavo, Kenya, and is the former President of the Pi Beta Phi NYC Alumnae Association. Ms. Gendron holds a BA with Honors from the University of Richmond and an Honors degree from the University de Poitiers, France.
Get in contact with Ashley:
Email: agendron@ceceliahealth.com
LinkedIn: Ashley Gendron