At an early age, Jane was diagnosed with type 1 diabetes. As she got older, her diabetes management was getting worse—she felt overwhelmed by her condition, lacked support, and had a limited understanding of her medication. She didn't know where to turn and lacked the motivation to make positive changes. After research for an Endocrinologist came up empty (due to her rural location), Jane learned about Cecelia Health's Virtual Diabetes Specialty Clinic through her insurance provider.
When Jane began virtual visits with her Certified Diabetes Care and Education Specialist (CDCES), she was not familiar with what to eat or how to understand her continuous glucose monitoring (CGM) device. In fact, this was the first time she was educated on her CGM device, and she felt intimidated. Jane began working with her clinician regularly and gained knowledge in viewing her CGM patterns, which then allowed her to make changes to her food selection and immediately improved her blood glucose control.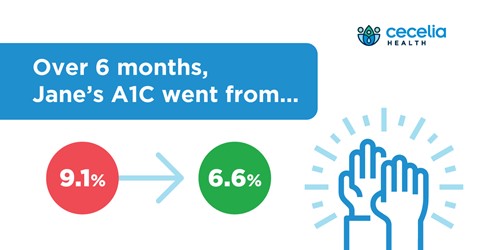 Jane felt like she was on her own in managing her condition until she was able to enroll in Cecelia Health's virtual clinic. Cecelia Health provided her with resources and support not otherwise available in her rural area. Over a 6-month period, Jane's A1C decreased from 9.1% to 6.6%. Jane was so impressed with her results that she even informed her clinician that a hemoglobin A1C at 6.6% was the best it has ever been!
Cecelia Health can help you expand access to chronic care management support in areas with care access challenges. No one needs to feel alone in their healthcare journey. We're here to help—connect with us today to learn more.