Are you an exceptional Certified Diabetes Educator passionate about helping patients overcome barriers to health?
Do you feel like you need a change that puts you at the front-line of a fast-paced and growing company enabling you to fulfill your potential?
If so, you could be a perfect fit for our team of like-minded professionals who share a common life mission and passion for helping others.
Cecelia Health is currently hiring for English and Spanish speaking CDE roles and will be holding interviews at booth #637 at AADE19 conference in Houston, Texas from Aug 9-12th, 2019.
Here's what to do:
Apply below to the desired position
Certified Diabetes Educator – English Speaking (Part Time)
Certified Diabetes Educator – Bilingual Spanish & English (Part Time)
If our recruitment team feel that you meet the requirements, you will be contacted by email and scheduled to interview during AADE19 at the Cecelia Health booth #637
Fancy bagging yourself some Amazon vouchers worth up to $300? Take our 'Stump the CDE' quiz and see if you have what it takes.
Score 80% or above and you will be put into the final to win some great prizes. Winners will be announced during AADE19 conference at booth #637.
Don't miss our panel session with Cecelia Health CEO David Weingard, VP of Clinical Services Teresa McArthur, and Dr. Korey Hood, professor of pediatrics (endocrinology) and behavioral sciences at Stanford University.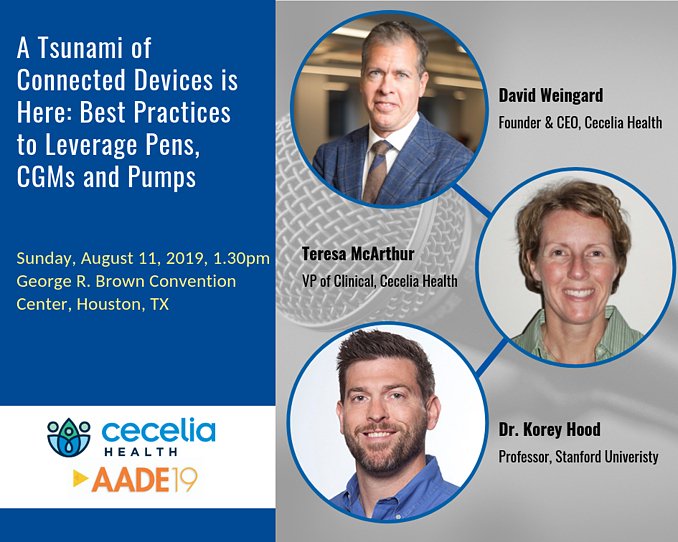 About

Diabetes is in the middle of a tsunami of new and connected devices being launched to the market. Hear lessons learned in the trenches leveraging technology and data to amplify the positive impact of diabetes specialists to improve outcomes. Learn best practices for initiation, persistency for diabetes medications and connected devices, and as how to use data to optimize individual health and self-care.
Learning Objectives:

– Describe new devices available on the market and how to leverage them to    improve the health of individuals with diabetes.

– Explain leveraging technology and data to amplify the positive impact of        CDE's
– Analyze data for optimizing health and self-management through                    connected devices
Session:
A Tsunami of Connected Devices is Here: Best Practices to Leverage Pens, CGMs and Pumps
When:
Sunday, August 11, 2019, @1.30PM
Location: 
Grand Ballroom B
Duration:
1 hour
Activity Base:
Knowledge-Based